---
---

My heartfelt sympathy goes out to all the victims of this tragic Firestorm. Through these relentless weeks in Hell, special thanks goes out to all the Firefighters for a job well done. I also want to thank the law enforcement agencies, medical workers, The Red Cross, volunteers, National Guard, Navy, Marines, and good Samaritans for all their kind and needed help. Together and over time we will rebuild what was destroyed and heal these terrible wounds.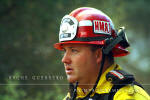 Special thanks to Captain Don Camp, California Department of Forestry (CalFire) - friend, brother of the badge, and one 'hell' of a firefighter (excuse the pun).
Thanks for the information, your guidance, and most of all, for watching our backs!
A majority of these images were taken from the Harris Fire in east county San Diego, Gillespie Field CDF base camp, Steele Canyon High School evacuation center.
Special thanks and greetings to former wildland firefighter / photographer Tim Middleton, CalFire Public Information Officer Gina Chamberlain, CalFire Photographer Wes Schultz, media professionals Priya David with KTVU San Francisco, John with Reuters, Jaclyn Allen with ABC Denver, and the many other Photographers, Reporters, and Journalist I met along the way.
FIRESTORM STATISTICS for SAN DIEGO COUNTY: As of November 1, 2007. (Numbers are estimates and constantly changing.)
Sources: County of San Diego Damage Assessment, Incident Command, CalFire (CDF)
505,279 Acres Burned
1790 Major Structures Destroyed
2215 Vehicles Destroyed
14 Related Fatalities
71 Firefighter Injuries
27 Civilian Injuries
560,000 Evacuated
28 Disaster Shelters
14,000 Firefighters Called to Duty
* * * Fire Apparatus
* * * Aircraft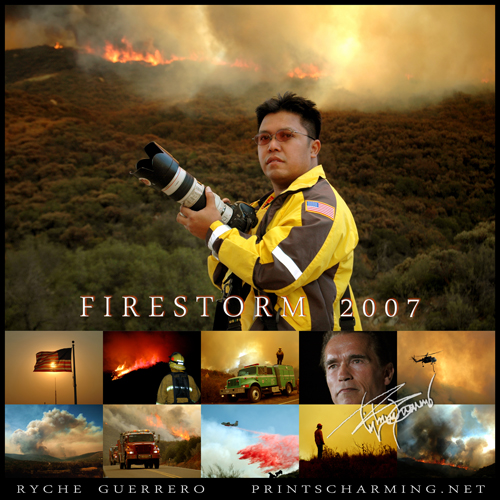 Images displayed are Copyrighted and are for viewing purposes only. Reproduction or unauthorized usage
is a violation of Copyright Laws. Reprints and enlargements may be purchased at non-profit prices for members
of the fire department(s) pictured above. Media, legal, and insurance usages are accepted per request.
---

Copyright Ryche Guerrero. All rights reserved. Reproduction of any image without the artist's written consent is strictly prohibited and against International and U.S. Laws.